Description
"No doubt with the ASP v2.0 I have the best sound I have heard both from the LX521.4 as well as overall" (Hasan L., NewYork, new cascaded ASPv2.0)
"..the bass is so tight and clean. I have never heard bass sound so good. This new design has done an outstanding job of integrating the bass speakers with the low mid speaker…My overall first impression is that the system is phenomenal, beautiful, outstanding. The system pulls out details in music I had never heard before. " (Thomas Z. , Tucson, new cascaded ASPv2.0 and LINKWITZ22MG upgrade).
(Mikael K, Sweden on new cascaded ASP with Linkwitz22MG drivers) "..a big difference in transparency and details, and this filter is completely silent if you listen close to the speaker elements. First impression of the new ASP filter was really good! The ASP change was a big upgrade, so I do not know exactly how much difference happened when I also switched to the new midrange L22MG. Can't tell if ASP of midrange. But the sum is really good. Frank the magician 🙂"
"The combination of the new cascaded-topology ASP, full-XLR cabling now to the Hypex NCore amplifiers and the new low-mid drivers let the speakers play at a new, very high level. The bass, driver integration, the silence close to the drivers etc etc all very impressive…" (Eddie D, Netherlands)
Siegfried Linkwitz: "An optimum crossover filter topology should be the starting point when the outputs from multiple drivers with different frequency responses and sensitivities need to be combined for a flat acoustic response." (In "Crossover Topology Issues")
A new product generation of ASP for LX521.4 was the opportunity to start circuit design with optimum cascaded topology. Furthermore, CAD optimisation in filter design allowes a reduction in filter stages. ASP LX521.4 v2.0 cascaded.

Some basic considerations, see "Crossover Topology Issues" on linkwitzlab.com:
parallel (typical), summing errors: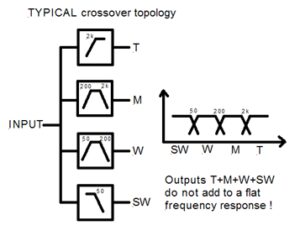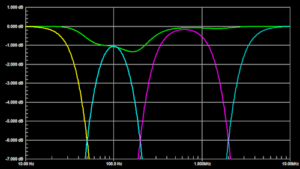 Cascaded plus all-passes (ideal) leads to perfect summing: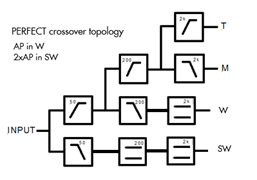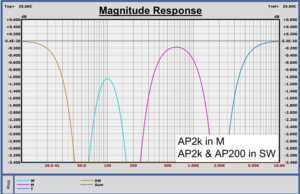 Generally, the cascaded ASP LX521.4 generates the same filter (magnitude) curves as before. Now with improved phase coherence among all channels
The cascding of the 120Hz high pass relieves the 10cm HiMid driver from large (but ineffective) excursions below 200Hz.
Reduced noise levels
Reduced distortion
CAD based optimised filter blocks (F,Q,Gain)
Parallel filter blocks at critical locations reduce noise and distortion further by a factor √2 . Furthermore, it improves inter channel matching by √2
Shortest feedback loops minimize stray capacitances, stray inductances and external interference pickup.
Newest Generation, High Performance Audio OpAmps (OPA 1656 etc.)
Dedicated ground returns.
Tightly specified 1-2% capacitors with lowest distortion figures (eg polypropylene dielectric) and 0,1% metal thin film precision audio resistors. This allows 20x better inter-channel matching.
Balanced signal input for maximum common mode rejection
3-step rumble filter for turntable users: off – med – hi.
Input gain increase by 12dB selectable (install jumper).
Optimised gain structure in woofer channel.
Smart power supply decoupling with feed-tru capacitors and large local buffer capacities.
+/-13V rails, from ultra low noise LDOs with additional CMC filtering, effective up to the MHz range (especially useful for SMPS use and their common mode spikes).
DIN 5-pole power plug compatible with MeanWell desktop PSU.
Slim design. Massive 3mm full aluminum case with stainless steel front plate: ca. 44 x 36 x 5,5 cm.
Dedicated case grounding point (M4 screw).
Neutrik XLR input and output plugs. XLR-RCA adapter cables are optionally available available in our webshop.
XLR outputs. We recommend to use balanced cables and balanced power amplifier inputs acc. AES48 standard. Eg ATI NC528
On request (please specify when ordering):  Circuit adapted for the new LoMid driver LINKWITZ 22MG.