READ VISITORS COMMENTS ON LX521
The audience enjoyed the "uncanny" (TheAudioCritic) soundstage illusion, that Linkwitz LX521.4 conjures up,
new LINKWITZ22MG driver and
PowerBoxes 6proNCore precision analog (new cascaded ASP)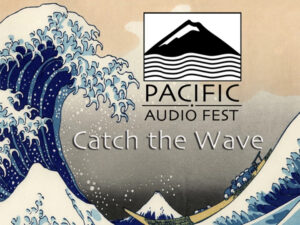 The LINKWITZ room at Pacific Audio Fest 2022:
Archimago´s Musings
…these LX521 speakers sound fantastic. Highly recommended listening to get a sense of what a speaker without the box sounds like. 4-way, dipole design. Lots of power and various compensations needed. Those amplifiers on the floor contain 5 nCore modules inside; I believe they're the PowerBox 6pro.
Duke Ellington's "Take The 'A' Train" and Christian McBride & Gina Gershon's "Chitlins and Gefiltefish" (Conversations With Christian) showed off the remarkable sound staging ability and just the "cleanliness" of the amp and speaker combo. No doubt certainly one of the best (if not the best) sound I heard all day.
Audiocircle
"The Linkwitz speakers sounded amazing… the bass the Linkwitz put out is on a different level and is amazing!"
Audiogon Forum
"LINKWITZ speakers – A total surprise. I know the name and a bit of the founder (RIP) but these speakers really surprised me. Amazing omnidirectional presentation, and a huge deep soundstage. The speakers really disappeared"
"I don't think any system created more depth than these"
Home Theater Hifi Forums
"Down the hall I found an entirely different concept in speaker and indeed system design, the Linkwitz room had their open baffle LX521.4 speakers powered by Linkwitz PowerBox 5-channel amplifiers with active crossover circuits, all designed specifically for these speakers.…the sound was great, not muffled. Very open (of course) and fast, effortless."
Steve Hoffman Forum
"I was also impressed with -the Linkwitz open baffle speakers, really nice!"
Whatbestforum
"This speaker called Linkwitz looks funny, but it sounds clear and holographic."
At Pacific Audio Fest, we demoed two source types:
Digital source converted to analog: Modded LINN Akurate DS streamer with DAC plays music from a NAS drive. LINNs output is balanced analog XLR.
Analog source: Turntable Basis Audio 2500 with SuperArm9, Calibrator Base. Synchro Wave Power Supply and Basis "Perfect Signal Transmission Technology" (PSST) phono cable. Ortofon MC Anna Diamond. Pass Labs XP27 Phono Stage. Pass Labs XP32 Preamp.