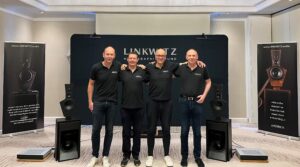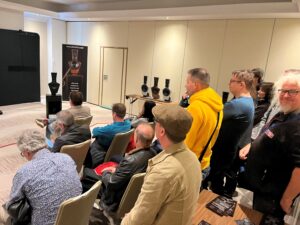 Our Salon B at the Munich Show hifideluxe has been very well attended.
Thank you for the many individual "Best Of Show" feedback, that we received from you personally.
As source material for the LINN G-ADS3 (heavily modded by Volk Audiosystems),
we played for the first time some real gems of recordings, stored in DXD/DSD format (thanks to M.W.!).
Jamie Howarth from  Plangent Processes supplied samples of his outstanding work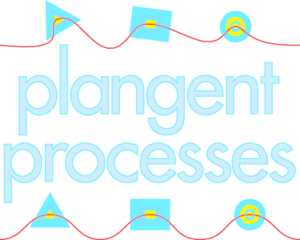 in digitizing ancient master tapes by applying a unique wow & flutter compensation technique.
We heard re-digitized files of well known tunes on a level of quality, that was just breathtaking.
It was fascinating to hear this combination of excellent source material and decent rendering on LX521.4MG.
Plangent Processes themselves do not offer these files, but you may look for them at the music companies, that own the rights for the songs.
On Saturday, after official closing hour, we experienced a real remarkable event, when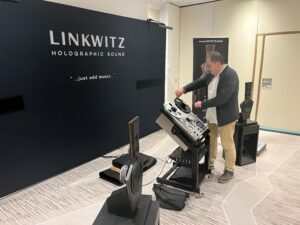 Christophe from Analog Audio Design appeared with his modern tape machine.
Furthermore, the Italian recording engineer brought one of his master tapes.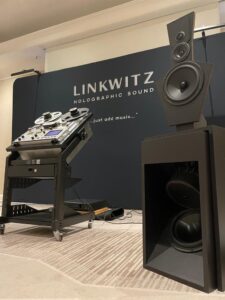 After connecting the tape machine to LX521.4MGs (Alu-Panzerholz-Sandwich top baffles),
we heard just "it".
I asked the recording engineer Lorenzo Vella from Nightingale Studios in the room,
how close this rendering comes to the original and he just stated: "That´s it!"
(when you've ever listened to LX521.4MG, you could guess his answer).
As the original (live) event is our absolute reference, such evaluations are most helpful.
See as well "Live or Loudspeaker?"
(If you do not like the live sound as it was recoreded, but want to add personal flavor/sound-alteration,
e.g. more or less highs/mids/bass, more harmonic distortion (tube sound),
the upstream signal may be altered, using tone controls, tube preamplifiers, equalizers, "room correction", convolvers etc.)
Serge demonstrates what was on the recording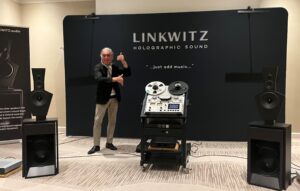 Magazine
…But the biggest surprise was still to come. Amongst all the rooms housing expensive-looking systems was a room that looked distinctively out of place. Any audiophile recognizing the name Linkwitz will immediately think of the Linkwitz-Riley crossover, and indeed, this company was founded by the late Dr. Siegfried Linkwitz.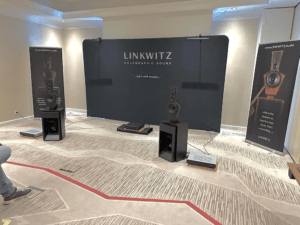 Sitting on the floor was a pair of relatively small, black, strange looking speakers called LX521. Each speaker has an open baffle on top of a rectangular box. The baffle houses two opposite-facing tweeters, plus a midrange and a mid-bass driver. The box is open at the front and back, and houses front- and back-firing bass drivers, tilted to face upwards. Next to each speaker was a low-profile metal chassis. There were no fancy cables, no brand name ancillaries. Listening while sitting at the center, the sound could only be described as holographic. The speakers projected a sound stage that was so realistic that it was almost beyond belief. The speakers reach far lower than one could reasonably expect from their size, and the sound is transparent and very dynamic.